The Chicago Tribune called it "sensational!"
The Boston Globe asked for an encore!
The Halifax Chronicle Herald declared it
"unreviewable – it has to be experienced".

DRUM! represents the musical heartbeat of Nova Scotia and of all of Canada. It is a spectacular musical production featuring musicians, dancers, drummers, and singers from four principal cultures – Aboriginal, Black, Celtic and Acadian – brought together in a heart-pumping fusion of music, dance, poetry, video, rhythm, and song.
Since DRUM! first came to the stage in 1999, the production has been received with standing ovations and rave reviews. Originally developed as a 45-minute tourism piece, DRUM! was the main stage show at Halifax Tall Ships 2000, featured at a series of international conferences, and a one-hour television special broadcast on CBC TV.
DRUM! made its debut as a full-length production in 2004 running for ten nights in its own specially designed theatre on the Halifax waterfront. Tourists and locals alike received the show with accolades resulting in a return to the waterfront for five-week runs 2005 - 2007. Critics proclaimed the show a hit, and U.S. tours ensued.
DRUM! first took the story of the rhythms of Nova Scotia to the U.S., starting in Florida at the prestigious Van Wezel Center and finishing to a packed 1700-seat theatre in Park City, Utah (home of the Sun Dance Film Festival). Audiences reacted with standing ovations, sometimes at the end of the first act, and hall operators were effusive with their praise: "Possibly the most moving performance we've ever presented in our theatre," said Darrell Bryan, Hall Manager, Greeneville, Tennessee. Since that time, DRUM! has returned to entertain U.S. audiences in over 17 states, appeared for two consecutive years on Parliament Hill for Ottawa's Canada Day celebrations, and wowed audiences in London's Trafalgar Square.
In February 2010, DRUM! appeared on a variety of stages during the Vancouver 2010 Olympics, followed closely by a five week residency at Dollywood, Tennessee, and a performance for Her Majesty Queen Elizabeth.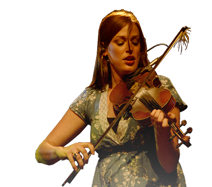 Award winning DRUM! was conceived of and created by Brookes Diamond, originally directed and choreographed by Tim French and is currently directed by Daryl Cloran.
DRUM! communicates a message to the world: we can hold on to who we are and still share a song, a stage, a country, a world.