NEWS
| | |
| --- | --- |
| | THE DRUM! EXPERIENCE |


How about your own DRUM! performance or event?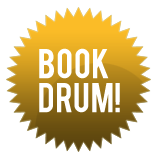 Given the huge success of our full-length stage show, we've created a variety of DRUM! experiences that can be enjoyed in different venues and settings. Whether you're looking for a high-energy conference kick-off or closing ceremony, gala dinner entertainment, a powerful interactive experience, or innovative corporate learning workshops, we can put together an entertainment experience that will create an unforgettable event.
Join in the beat of the DRUM! Complete an Information Request Form today to find out more.



SPECIAL PERFORMANCES

DRUM!
Full Show
DRUM! as it was originally intended. The full performance in its 90 minute entirety complete with all the music, dance, stage and set as it was originally conceived and produced.
Duration:
Approximately 90 minutes

DRUM! - RHYTHMS OF OUR NATION
DRUM! in one act:
A specially abridged version of the DRUM! show which works well in an opening or closing ceremony.
Duration:
Approximately 1 hour

Short Version DRUM!
A shorter version of the DRUM! show which works well as evening entertainment for a gala dinner or special event.
Duration:
20-40 minutes
BOOK A DRUM! EXPERIENCE



INTERACTIVE ENTERTAINMENT

Invite your audience to participate in a magical experience of self-expression and transformation!

DRUMPOWER!
DRUMPOWER! is an engaging, interactive show in which every participant is given an instrument from one of Nova Scotia's founding cultures; Aboriginal, Acadian, Black and Celtic. Four percussionists, one from each culture, share with participants both their personal experience, and what music and rhythm has meant to them. The performers then teach each group a basic rhythm on their instrument ultimately bringing the rhythms together while singing a traditional Mi'kmaq song. The result is a uniquely uplifting and unifying experience that demonstrates that: "we can remain who we are and still share a song, a stage, a country, a world".

Duration:
Approximately 1 hour

BOOK A DRUMPOWER! EXPERIENCE
Contact the Solutions Team at LimeLight to bring DRUM!POWER to your workplace.
LimeLight Communications Group Inc.
DRUM!POWER@LimeLightGroup.com
902-433-1986 or 1-866-257-7325
DRUM!POWER is produced by DRUM! Live Inc with curriculum and content consultation from HR PROS