QUOTES
"An international success… extravaganza conquers the stage!





Paula Citron, The Globe and Mail, Toronto


"I want an encore!"





Alex Beam, Boston Globe


"Sensational!"





Alan Solomon, Chicago Tribune


"...uplifting... remarkable... will keep you hooked from the opening beat."





Halifax Chronicle Herald/Mail Star


"Every American citizen should see this show."





Corby Skinner, Director, Alberta Bair Theatre, Billings MO


"Possibly the most moving performance we've ever presented in our theatre."





Darrell Bryan, Hall Manager, Greenville, TN


"I laughed, I cried, I prayed."





Ron Robinson, Seattle Washington


"Superb, superb, superb… goose bump stuff."





Diane Savoie, Moncton Capitol Theatre


"Great Music high energy, and great talent – what a performance!"





Deb Smith, Executive Director, Newberry Opera House, S.C


"A phenomenal success."





Megan White, Tahlequah, OK


"DRUM! should be seen by everybody."





Holly Richards, Paramount Theatre, Aurora, IL


"A smash hit for this town – and in the off-season! Fabulous."





Joanne Evans, Palm Theatre, Telluride, CO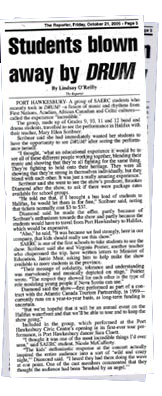 CUSTOMER COMMENTS
"I have never seen a show so mind blowing like this one."





Kami McGuire, Palm Coast, U.S.A.


"There are no words, probably the best thing I have ever seen."





Sarah Zelman, Head Jeddore, N.S., Canada


"It was a unique experience
and I didn't want it to end."





Anna Apostolidou, Athens, Greece


"Outstanding, best of the best!"





Gilberte Dugas, Grand Anse, N.B., Canada


"Wonderful show and extraordinary talent"





Teresa McCullen, Augusta, U.S.A.


"Breath Taking!"





Gisele Drexler, Winnipeg, Manitoba, Canada


"Totally Joyous, Amen…Yeah!"





Blake Ferris, Ottawa, Ontario, Canada


"Wonderful Show, Vibrant and Alive!"





Dan Payment, Greely, Ontario, Canada


"It was awesome! I saw it twice."





Meghann Livingston, Pictou, N.S., Canada


"Outstanding, energetic & very worth seeing again. Look forward to seeing it again."





Kim Van Mourik, Burton, N.B., Canada